Contact RAMS
 31 Yorkshire Road, London, E14 7LR
 Tel: 0207 790 2837
 Tel: 0207 790 3795
 Fax: 020 7790 2750
 Email:
This email address is being protected from spambots. You need JavaScript enabled to view it.
Contact RAMS
 31 Yorkshire Road, London, E14 7LR
 Tel: 0207 790 2837
 Tel: 0207 790 3795
 Fax: 020 7790 2750
 Email:
This email address is being protected from spambots. You need JavaScript enabled to view it.
Outside Services
On-site Installation, Statutory Examinations, Testing & Certification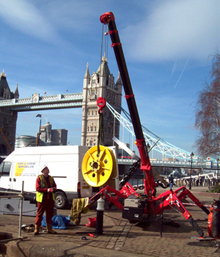 Rope & Marine Services Ltd (RAMS) offers on-site installation of new structures, hoists and equipment, statutory examinations, certification and testing services, we load test and certify a variety of lifting equipment items on site, runway beams, lift motor room & lift shaft runway beams, swing jibs, hoists, overhead travelling cranes and gantries etc.
Our experienced site engineers are able to accommodate all your on-site requirements, whether a statutory examination of loose lifting equipment or load testing, repairs, maintenance or a completely new installation. RAMS engineers are fully qualified and carry a comprehensive range of portable calibrated testing equipment.
Want to discuss site visits? Please don't hesitate to contact us, we would be more than happy to advise you on your on-site lifting and certification requirements.
Delivery & Transport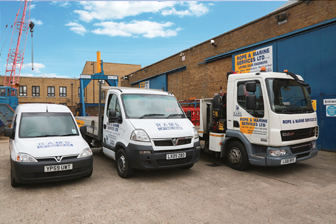 RAMS provides a next day delivery & collection service for all Sales and Hire equipment, covering London and the Home Counties. We operate a fleet of fully serviced vehicles to suit all our equipment and site access restrictions, our Central London location makes us ideally placed for fast and on time deliveries, our fleet of company vehicles include :-
2 x 12t GVW (HGV) flat back delivery vehicles with lorry mounted crane
1 x 7.5t GVW flat back delivery vehicle with lorry mounted crane
2 x 3.5t GVW drop sided delivery vehicles
5 x Site Service vans
Collections - Opening Hours
From our works at 31, Yorkshire Rd, London E14 7LR (access for all collections & material deliveries being through our yard in Raby Street at the rear of this address)
MONDAY to THURSDAY 08.00 hours – 17.30 hours
FRIDAY 08.00 hours – 16.30 hours
Please note – we close for lunch daily 13.00 hours to 13.45 hours