Contact RAMS
 31 Yorkshire Road, London, E14 7LR
 Tel: 0207 790 2837
 Tel: 0207 790 3795
 Fax: 020 7790 2750
 Email:
This email address is being protected from spambots. You need JavaScript enabled to view it.
Contact RAMS
 31 Yorkshire Road, London, E14 7LR
 Tel: 0207 790 2837
 Tel: 0207 790 3795
 Fax: 020 7790 2750
 Email:
This email address is being protected from spambots. You need JavaScript enabled to view it.
Examinations, Testing & Repairs
RAMS's fully qualified engineers offer examination, testing & re-certification of all major brands of lifting and jacking equipment according to LOLER and PUWER regulations (1998). Our depot houses various testing facilities, whether you're looking to re-certify a standard Item of lifting equipment or equipment of a bespoke design, here at RAMS we are confident we will be able to accommodate all your re-certification requirements.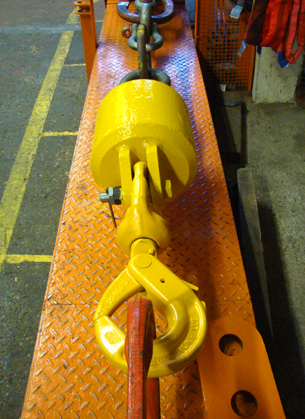 Examinations, repairs, testing and re-certifications are carried out in our fully fitted workshops, by our trained and experienced engineers. Our range of In house testing facilities and our central London location makes us ideal for all your requirements. Unsure of what you need? Unsure of how often your equipment needs to be examined? Feel free to contact one of our expert staff who will be happy to assist you with your requirements.
Testing Facilities
200t capacity vertical test tower with 15 x 4 meter wide ISO ground jig frame
100t capacity 18 metre horizontal tensile testing machine
30t capacity 6 metre horizontal tensile testing machine
Hoist dead weight and load test facilities
250t Jack Test Rig
Hand test weights and bulk test weights
Various load cells up to 50t
Repairs and Maintenance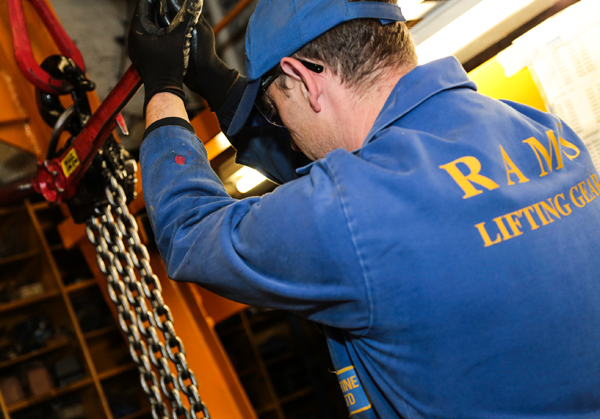 Our experienced engineers are able to repair all major brands of lifting and handling equipment, from simple chain slings to complex electric hoist repairs. All repairs are carried out in accordance with LOLER and PUWER (1998) regulations and returned with a current certificate. Backed up by vast stocks of spares, we are able to minimise your costs due to breakdowns and have your equipment back on site in perfect working order as soon as possible.
At RAMS we understand that time is money, therefore our vast fleet of hire equipment offers the perfect substitute for your equipment whilst it is being repaired or serviced. Browse the Hire and sales tab or contact one of our staff to enquire about hiring lifting equipment while yours is being expertly serviced.
Contact us for all your examination,
re-certification requirements
Want to discuss examinations or enquire about repairs and servicing? Please contact us, we would be more than happy to advise you in regards to your lifting equipment requirements, alternatively please email us and someone will assist you as soon as possible.