Contact RAMS
 31 Yorkshire Road, London, E14 7LR
 Tel: 0207 790 2837
 Tel: 0207 790 3795
 Fax: 020 7790 2750
 Email:
This email address is being protected from spambots. You need JavaScript enabled to view it.
Contact RAMS
 31 Yorkshire Road, London, E14 7LR
 Tel: 0207 790 2837
 Tel: 0207 790 3795
 Fax: 020 7790 2750
 Email:
This email address is being protected from spambots. You need JavaScript enabled to view it.
About RAMS
Welcome to Rope & Marine services Ltd (RAMS)
Established in 1948 we are proud to have been offering lifting equipment hire, sales, repair, test and manufacture throughout London and the South East for over 60 years.
Our business principals are simple, to be a secure part of our customers supply chain by supplying the right equipment, in the proper condition, to the right place, at the right time.
Our Services:
Hire and Sales of Lifting Equipment and Lifting Accessories
Testing and Certification
Repair and Maintenance
Site Installations, Repairs, Examinations and Testing
Manufacture and Design
Delivery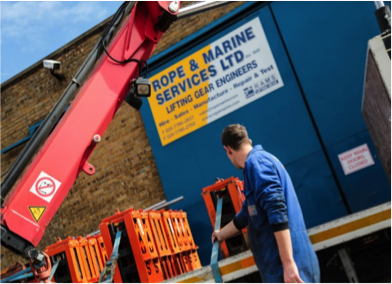 Our people are the company's major asset and we enjoy a wealth and depth of experience unmatched in our industry. With friendly expert staff we believe in enjoyable, sustainable and profitable long-term relationships with our customers, suppliers and employees. Our advantage over other lifting equipment providers lies in our depth of knowledge and extensive connections from many years in the industry, coupled with the complete understanding of what our customers need and our ability to provide practical lifting solutions while maintaining a forward thinking attitude.
As agents and stockists for all major brands of lifting, handling and safety equipment our large depot offers a wide range of quality products and services. Our extensive fleet of quality hire equipment is maintained to the highest possible standard. The equipment is subjected to a stringent regime of thorough examination, repair, testing, certification and record keeping. All works being carried out, in our fully fitted workshops, are by our trained and experienced engineers.
Our large premises is located approximately 2km due East of the City of London, just off the A13 Commercial Road, 250 metres away from the Northern entrance to the Rotherhithe Tunnel. There is a secure car parking compound for visitors and employees, adjacent to the main office entrance.
Professional Body Memberships
Established across the globe as the leading representative body for all those involved in the lifting Industry world. We are full members of the LEEA and operate to their code of practice.
The Fleet Operator Recognition Scheme (FORS) is a voluntary accreditation scheme encompassing all aspects of safety, fuel efficiency, vehicle emissions and improved operations. FORS helps fleet operators to measure and monitor performance and alter their operations in order to demonstrate best practice.
Achilles UVDB provides a fair, open and transparent means of supplier selection for potential tender opportunities. Achilles UVDB helps utility companies manage risk within their supply chain and comply with EU Procurement Legislation.
RISQS, formerly known as Achilles Link-up, has been developed to provide a service for the qualification of suppliers for all products and services that are procured by the industry. RISQS supports Network Rail, LUL/Transport for London, passenger, light rail and freight train operators, rolling stock organisations, main infrastructure contractors and other rail products and services providers in the management of supply chain risk.
Associations
Achilles creates and manages a global network of collaborative industry communities, allowing trading partners to share high quality, structured, real-time data
BSI is the business standards company that help organisations make excellence a habit
Established in 1983 by business people for business people, the Federation of Crafts and Commerce is a non-profit making, non-political business association providing a practical support package to its small to medium sized business Members.
The aim of the Club was to have a credible and representative voice for businesses in Docklands.
The capital's largest independent networking and business support organisation
Established in 1952 the CHSG Is a recognised and respected provider of quality training and support to construction and associated industries
A UK goverment certification service which reduces the need to repeatedly fill in standard pre-qualification forms for every construction tender.